MSP Reviews™

is the easiest way to acquire Google reviews.
Call (877) 316-7516 or fill out the form below to request a quick demo and client pricing!
Not only are Google reviews trusted, but getting them may be the single-most important thing you can do inside your practice to positively affect your search engine rankings.
MSP Reviews™ gives you control over your reputation. Why gather reviews from non-trusted third party applications that people will never see? Your practice needs Google reviews, and lots of them.
Leveraging MSP Reviews' deep-linking technology software gives your practice the ability to easily generate Google reviews right inside your practice. No more crossing your fingers and hoping patients will remember to review you after they return home and resume their busy lives!
Send a text with a link that opens your Google page for an easy review!
"With MSP Reviews, asking patients for reviews has not been difficult at all. When you have developed a relationship with that patient, it's almost like they are doing a favor for a friend!"
Denise Rohrig, Landsaw Eyecare
MSP Reviews™ deep-linking cell phone technology
Integration of your YELP! and Google accounts
Aggregation of all your reviews on one web page for added distribution
Follow-up email review system
Ongoing goal setting and team training
Initial MSP Reviews™ Starter Kit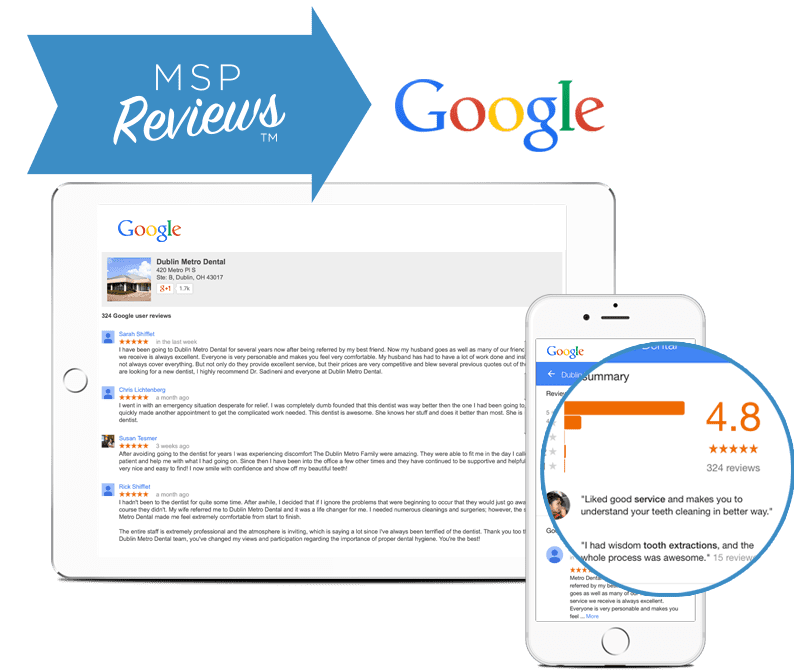 A consistent flow of Google reviews is the absolute best way to:
Convince prospective new patients to schedule their first appointment.
Enhance search engine rankings.
Help your Google account show up in the maps section.
Generate more new patient phone calls.
Manage your reputation online.
Plus, we ship you this box full of in-practice printed materials!