Posting a good content mix is the key to effective social media marketing!
How often do you scroll through your social media newsfeed and see photos and information that you just don't care about? Science has shown that our brains are wired to filter out irrelevant information, much like a spam filter! Think about how much content you unconsciously discard while scrolling through your social media feeds!
Some social media companies still say that the only effective content is a photo of team members or patients smiling at the camera—and that's ALL you should be posting. That's just silly—and, it's bad advice. Have you ever had someone in your newsfeed constantly post photo after photo after photo of their 2 year old? Ugh… even though the 2 year old is cute.. those posts can get old really fast.
At My Social Practice we recommend a good content mix. Take a look at this post that did particularly well for one of our clients.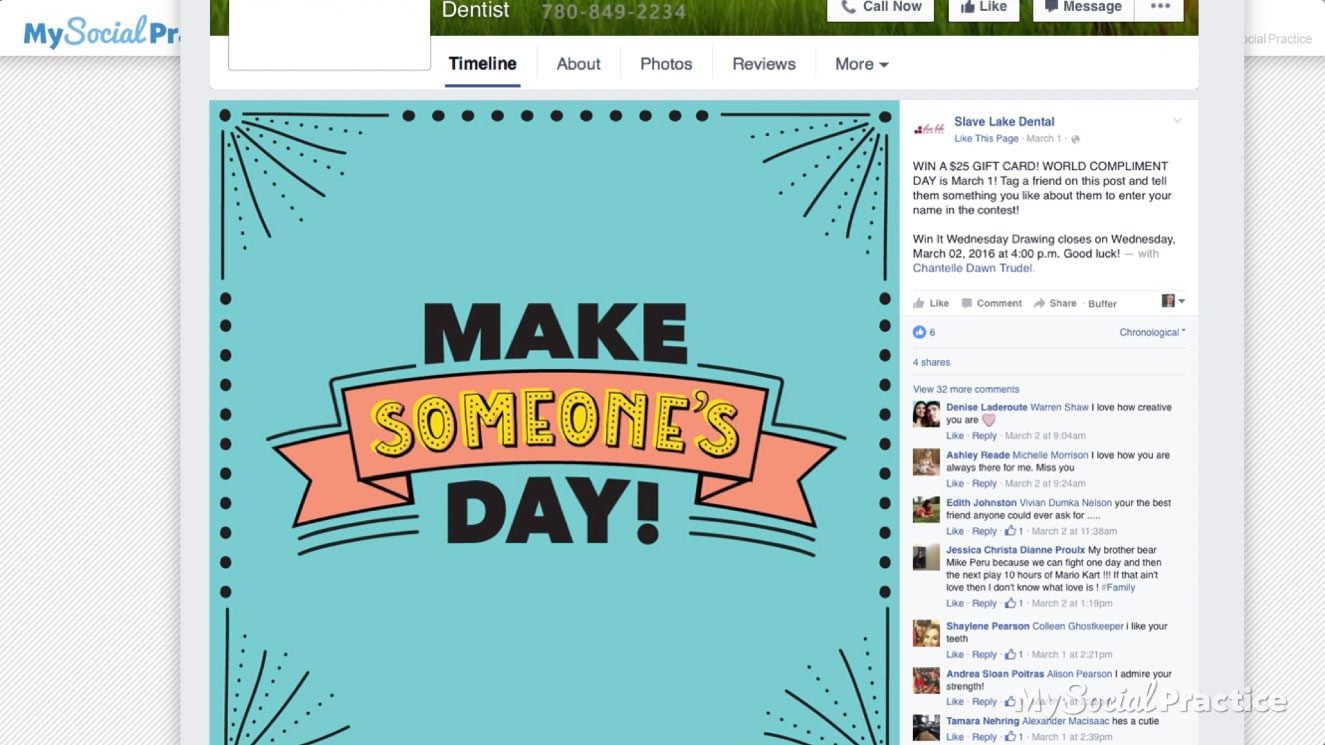 They make the post relevant to their fans by mentioning their city by name, and saying what they love about spring in their community. In return, they got 16 shares and 139 likes!
The same holds true in this second example where no photograph was used. There is a strong call to action and fun motivation for sharing the post, resulting in shares and lots of comments.
So sometimes, the magic lies in what you choose to talk about, how you talk about it, and in some cases, the call to action.
And, here's one more example. In this case the practice did use a photograph, but in addition they tell a story about the doctor's goal and the fight against Leukemia. The post is much more than just having a team member of patient stand in front of the camera and smile.
These three posts are all different, and, they're all effective.
Relevancy is what makes a social media post compelling to your fans, patients, and potential patients—all of whom most likely live in your same community. Since you know your city's people and needs best, you can customize your posts to be relevant to them.
Demonstrate your connection to your community by talking about local events, festivals, health concerns—even the weather! Even just seeing the name of your city in a post can trigger your brain to think "Hey, this might be important to me."
Making your social media content relevant to your fans creates that essential personal connection that builds patient loyalty and gets prospective new patients interested in your practice.
Do you have anything to add? Leave a comment below!
____________________________________________________________
Ready To Begin Finding Dental Patients with Digital Dental Marketing?
About the Author: Jack Hadley is a dental marketing expert and one of the founding members of My Social Practice. My Social Practice is a digital dental marketing company located in Salt Lake City, Utah. Jack is passionate about helping dental practices grow. If you'd like to book Jack or one of the other members of My Social Practice's speaking team, you can do that HERE. Interested in learning more about the benefits of SEO for dentists, our dental websites service? Learn More Here.
____________________________________________________________