Dental Social Media Content Tips For High Engagement
Whether your dental social media engagement and content is just scraping by, or you are on top of things and posting quality content that gets engagement (i.e. likes, comments, shares.) there is most definitely still room for growth!
Why Is Engagement So Vital To Effective Practice Marketing?
Your Patients' Perception Of You And Your Office Is Directly Influenced By What You Post On Social Media.
And, with more dental patients online than we have ever seen using social media to find a provider, (thank you, quarantine.) you've got to have a presence that makes your practice look fantastic.
Patients are looking for a practice that provides useful and entertaining information. Dental patients are more than willing to engage with their dental practice online. You've just got to give them a good reason to!
3 Dental Social Media Content Tips
1. Using Social Signs To Create Engaging Content
Although one of the main goals of dental social media marketing is to attract new patients, we all know it costs your practice more to get a new dental patient than to retain your current patients. That's why we like to focus on marketing strategies that show your current patients that you care about them. Dental practices that show their patients that they care have more loyal patients and a higher retention rate. The purpose of dental social media is to show patients that you care about people, not just teeth.
There are many dental social media ideas out there. The truth is, many of them won't attract attention and engagement. You don't want to waste your time on social media content that doesn't work. You want the kind of dental social media engagement that helps you meet your bottom line.
"Content Builds Relationships. Relationships Are Built On Trust. Trust Drives Revenue."
-Andrew David, Best-Selling Author, And Keynote Speaker.
So, you know that you need content that attracts new patients and fosters relationships with current patients. But, what does that content look like? How does your dental team find time to post content like that? That's where the dental marketing experts step in.
Want to see your engagement skyrocket? With the My Social Practice's High Engagement Pack, you'll get 10 awesome dental post ideas designed to do just that. You'll be surprised how much your dental social media can do for your practice with the right kind of content.
2. Follow Trending Ideas On Instagram
You can find trending content on Instagram using hashtags, (example: #dentist). You'll want to identify hashtags that relate to your marketing goals. You find hashtags by clicking on the search icon at the bottom of the screen.
The idea here is to spend some time and get acquainted with the hashtags that are related to dentistry, your local area, and other interests that your quality patients are following.
Below are the steps and also a graphics slider with examples of exactly how to do this.
Steps To Find Trending Hashtags On Instagram
Click the search button at the bottom of the the screen
Search your city and state using the search bar
At the top of the screen select the Tags button.
Select one of the tags in the list provided
Follow the hashtag
Make sure to check the related hashtags section for new ideas
Select another hashtag to follow
Did deeper in the hashtag by checking out the content
Find content that relates to your practice or potential patient
Click through to the post
Check out the hashtags used in the post
Find new hashtags and follow them
Use The Graphics Slider Below For Examples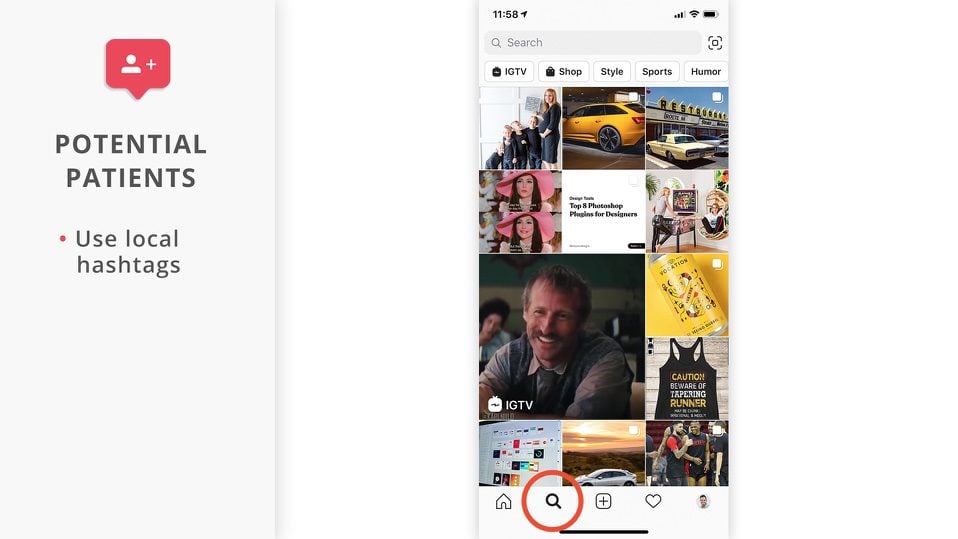 3. Steal Social Media Content Ideas From Others
Well, is it really stealing? I mean, isn't everything online basically rehashing of something else?
I say stealing because I/we (My Social Practice) give you permission to use the ideas we post. We are continually on the lookout for trending dental content ideas and we publish them to our followers. So, make sure to subscribe to out content so you can get all the cool ideas we find.
By posting fun and engaging content online, you boost retention and keep top-of-mind awareness. Our clients report increases of up to 30% in their new patient intake since starting to utilize social media. The social media content ideas we send you are specifically designed to celebrate your patients, introduce your team, showcase your practice culture, and ultimately bring in new dental patients.
Guess What? We Can Help With Your Social Media Content
The Ideas In This Download Are Just The Beginning!
Posting on social media and dental social media engagement is no longer optional for dentists. It is necessary for growth.
Dentists have found it so easy to work with My Social Practice because unlike traditional marketing agencies, we concentrate on the dental industry and the dental industry only.
We Encourage You To Talk To A Dental Social Media Expert To Create A Personalized Marketing Strategy For Your Practice.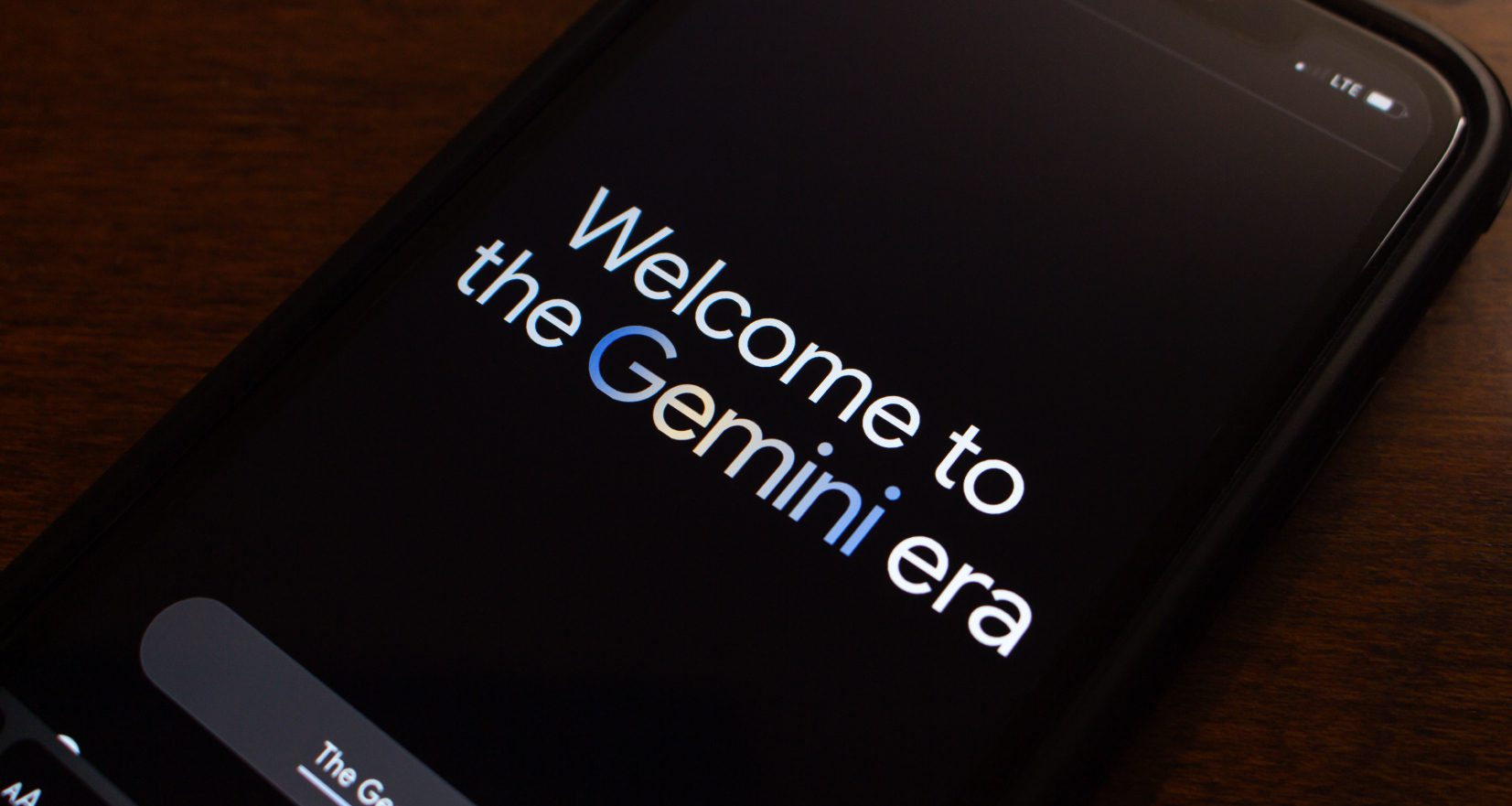 Why are we Even Talking About an AI Dental Marketing Tool? Here is a very real realistic scenario... In the near future a new patient is going to call a…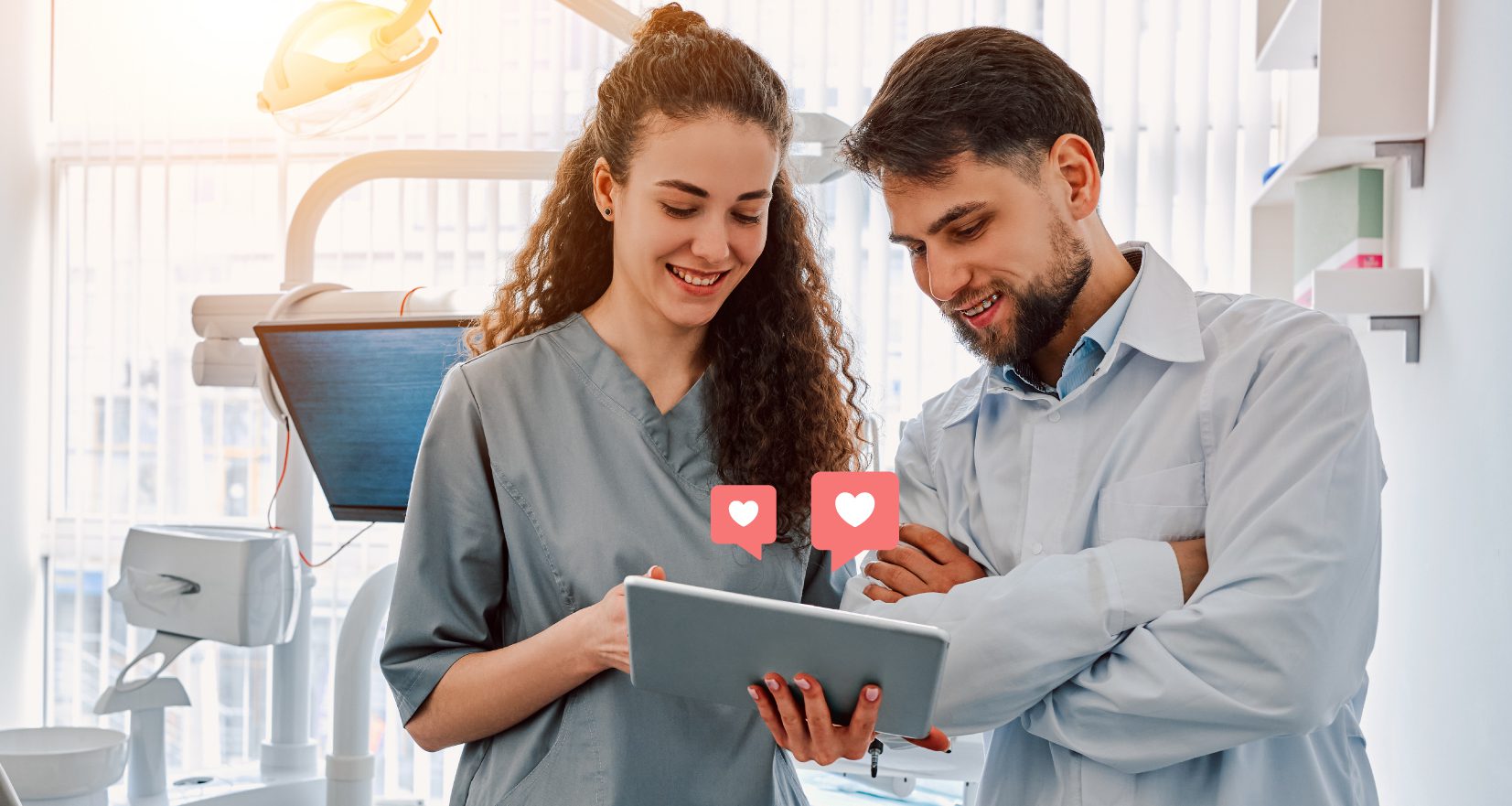 Unlocking Social Media Success for Dental Practices: Why Consistency is Key For a lot of dental practices, social media may be a (surprisingly) effective tool you've been neglecting in your…