Dentist Internet Marketing Tips To Find New Patients
If you are not using dentist internet marketing to build your practice and find new dental patients, it's time to bring your dentist internet marketing strategy up to speed.
Don't worry if your have not ever done dentist SEO, or if your website is ten years old. You can begin to improve your dental marketing in small simple steps. As long as you're pointed in the right direction you should not be to worried.
This blog article will cover simple dentist internet marketing strategies that you can begin working on today to get you point4ed in the right direction.
Feel free to watch this recorded training from Blake Hadley the President of My Social Practice. He discusses 5 dentist internet marketing strategies and gives tons of examples to help you out.
1. Your Dental Website Must Convert Visitors into Patients
To have a high-converting website ensure that you have use professional photography and video when necessary. Videos are much more interactive, jeep visitors on your website for longer periods of time and improve engagement and conversions. Plus, it makes your dental website look modern and trustworthy.
One concern with using video specially on your homepage is to make sure that the video is not too large. We suggest that you compress the videos down to the smallest file size and don't use videos much longer than about 20 seconds. This will keep your file size small enough that you're homepage will load quickly.
MOBILE OPTIMIZATION: Check the mobile optimization of your website. Mobile optimization is critical as an increasing number of patients are using their mobile phones to search for new dentists in their area. If you're not sure how to check, you can use our complimentary Website Grader which will show you how fast your website is loading, if there are any errors, as well as whether your site is mobile optimized.
ABOUT US PAGE: Include an "About Us" page that contains photos and bio of your doctors and team. Your future patients want to see who they will be working with. Introducing yourself to your patients before they ever step foot into your practice will get you started off on the right foot.
Make it easy for patients to contact you! In the header of your website, display your contact information in bold lettering. Make it extra easy to find your contact information and give you a call. Include a strong call-to-action like "Give Us A Call Today!" or "Schedule An Appointment Now!" to urge your website visitors to take any action on your site.
2. Dental SEO Will Help Your Practice Be Found Online
There are 3 things we want to focus on when discussing dental SEO. The first is keywords, keywords, keywords. Include key phrases that potential patients will use to find dentists and dental services. For example, "Dentists in Chicago" or "Teeth whitening near Bakersfield"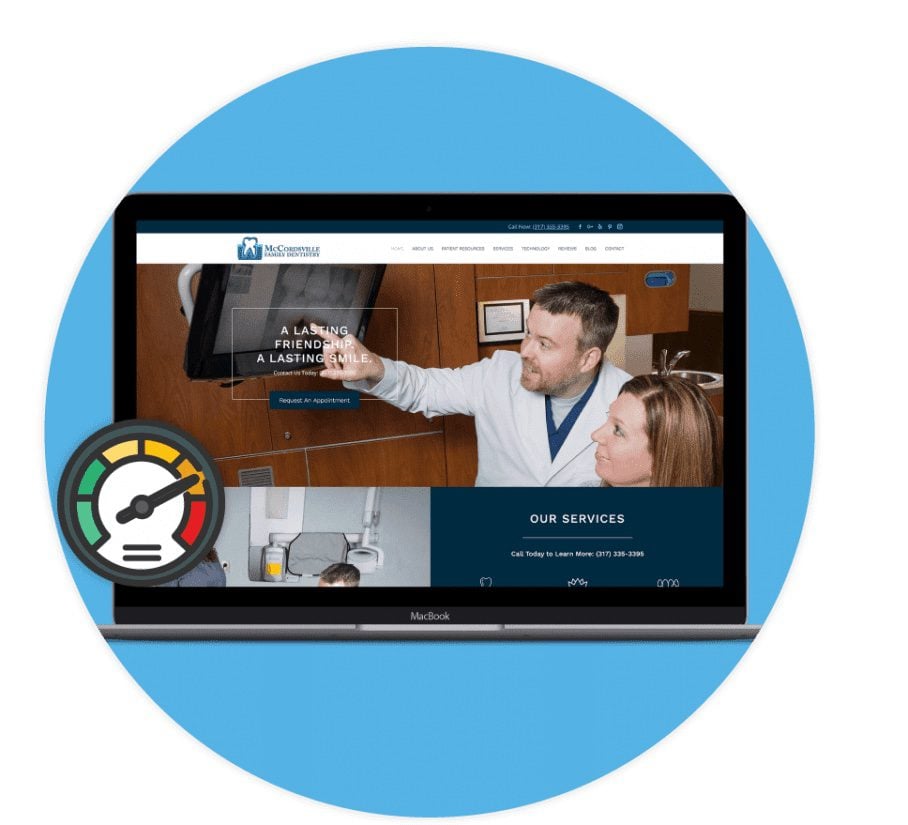 Website speed is the second thing you'll want to check on your dental website. Did you know that if a website takes more than 3 seconds to load, many potential visitors will exit the site? This is the reason that Google is penalizing websites that do not load quickly enough. The penalization that these websites receive is lower search engine rankings. You don't want to lose new dental patients just because your website takes a few extra seconds to load. There are several things that you can do to speed up your website. Use our Website Grader to see how fast your site loads.
The third thing to keep in mind when aiming for awesome SEO for dentists is to include relevant content on your dental website. Relevant content is things like links to helpful dental resources, sharing content that is relevant to your local area and expertise, and blog helpful blog content.
3. Use Dental Social Media Marketing To Attract New Dental Patients
The most effective dental social media marketing is fun and engaging. Dentists who post fun and interesting photos and videos showcasing their team see big results in engagement and awareness. Potential dental patients care more about how comfortable they feel with your team than they do about the clinical side of your practice. Your dental social media pages are a place to build trust and life-long relationships with existing and new dental patients. This will increase conversions towards scheduled appointments.
Below is a great example from Berrien Dental who posted a fun engagement question about Thanksgiving using social signs. If you've never used social signs before please download one of our free packs here.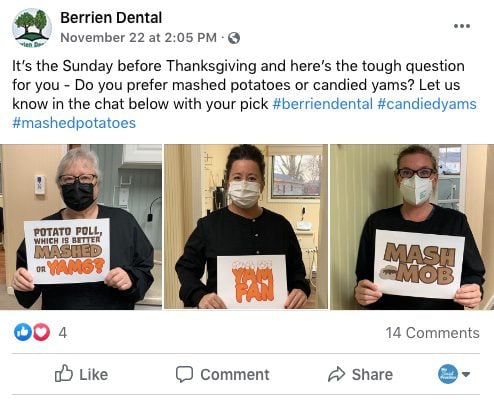 Run contests in your practice to get great engagement and build strong relationships with your patients. Giving away a prize, even if the prize is as small and simple as a $5 gift card, goes a long way for patients and Facebook fans. Show your patients some love and appreciation by hosting a small giveaway!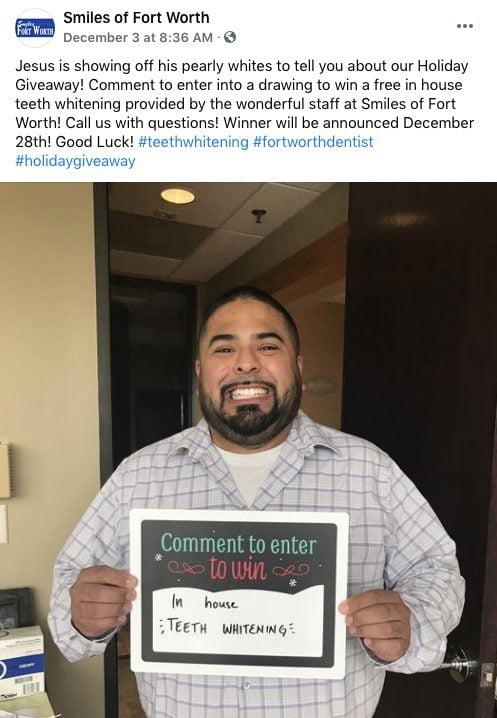 A sure way to reach more patients is to use the "Boost" function on Facebook and Instagram. Putting a small budget behind one of your social media posts will get it in front of the eyes of local users. The targeting inside of the boost function is quite incredible. You have tons of options in terms of who and where your content can be seen.
Share stories about your team and show off that your practice treats people, not teeth. When you get personal, rather than clinical, you'll find that potential patients are excited to get involved with your practice online. This helps them remember you so when the time comes that they want to schedule you'll be on their mind.
4. Ask For Online Reviews, Especially Google Reviews
A trick that our dental clients have used again and again to get more online Google reviews is to ask patients to leave a review while they are still in your practice. Once a patient leaves your practice, you become out of sight, out of mind. Unfortunately you'll not get very many reviews if you suggest doing it after they leave the office.
Make it personal by asking them to help you reach a practice goal you have set for Google reviews. Patients are much more likely to leave you a great review if you make their experience personal. Learn more about how to get more dental reviews in this Google review article.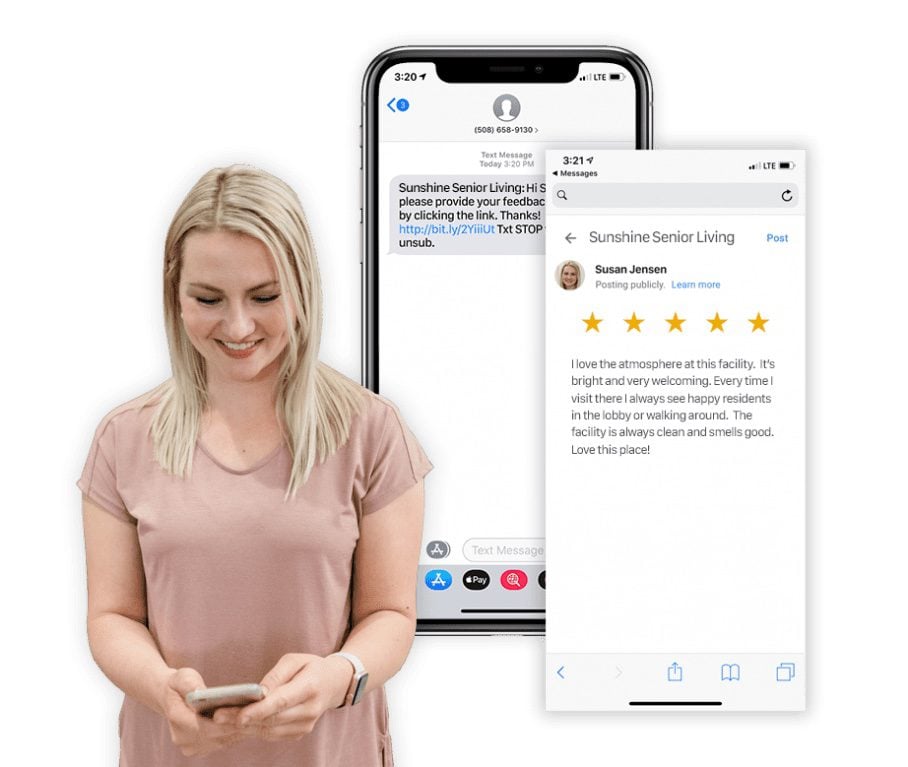 Make it easy and simple for your patients to leave a great review for your dental practice. My Social Practice has a reviews text and emailing system designed to make leaving reviews a snap. Our Google review service is one aspect of dentist internet marketing and part of our dental reputation management service.
5. Create Opportunities For Patient Generated Content
An important part of reaching new dental patients using dentist internet marketing is to have your patients share their experiences with a post. When your patients post about you on their personal profiles, your dental practice reaches their family and friends — people who remember and trust their recommendations. The best way to introduce your dental practice to the people most likely to become new patients is through your existing patients online.
Have a patient grab a Social Sign (Get free Social Signs here!), snap a photo with you, and share it on their page. Make sure the tag your practice so you can share it too!
If you feel overwhelmed by the prospect of dental marketing, but need new dental patients, we are here to help. Request a quick chat to see what My Social Practice's award-winning social media solution for dental practices makes it easy to attract and retain patients online.
About the Author: Adrian Lefler is a dental marketing expert and a key member of the dental marketing team at My Social Practice. My Social Practice is located in Salt Lake City, Utah. Adrian is passionate about helping dental practices grow. If you'd like to book one of the members of My Social Practice's speaking team, you can do that HERE. Interested in learning more about the benefits of SEO for dentists or our dental SEO service, please schedule a complimentary consultation. And, don't forget to read our Google My Business reviews.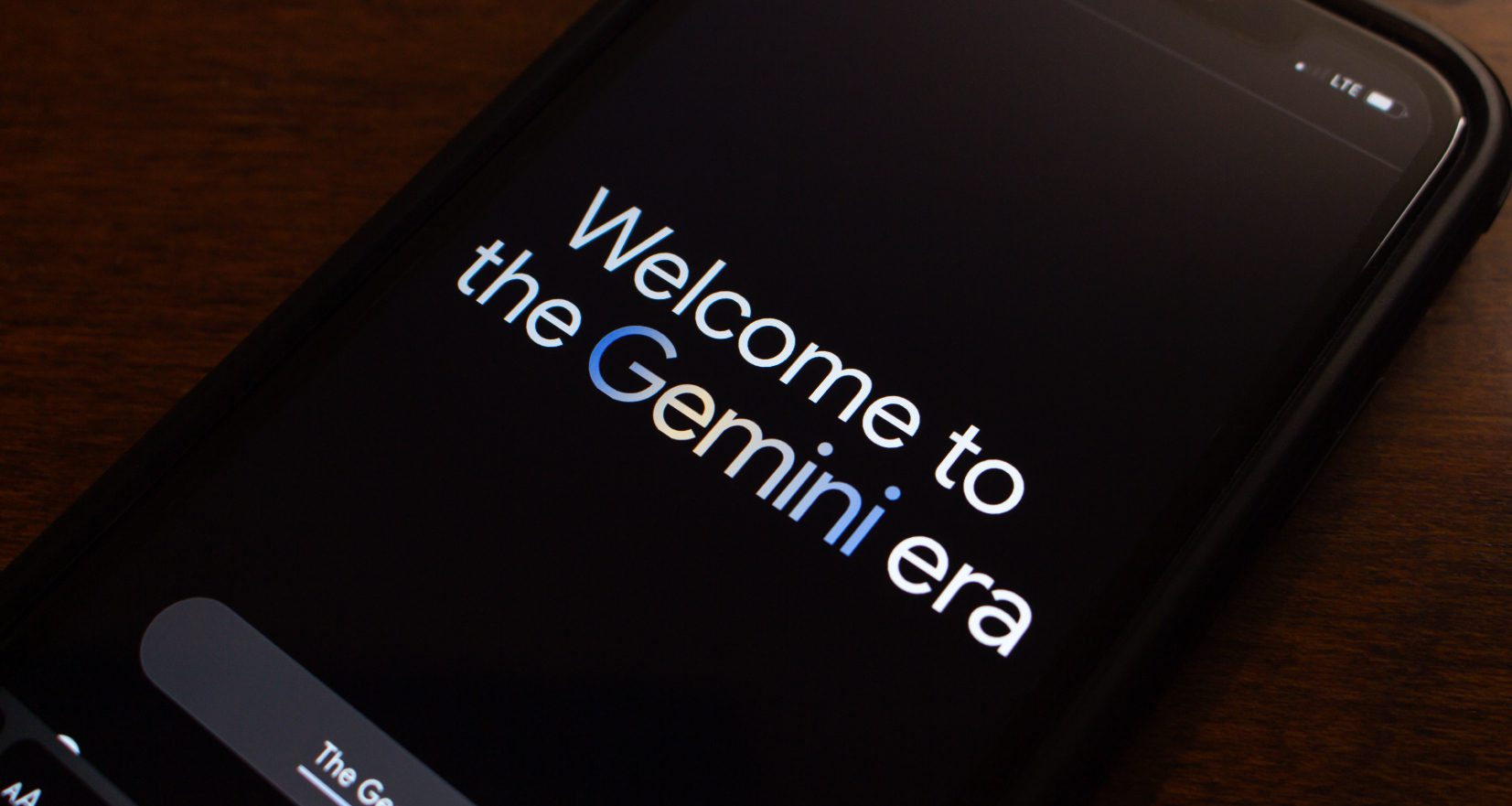 Why are we Even Talking About an AI Dental Marketing Tool? Here is a very real realistic scenario... In the near future a new patient is going to call a…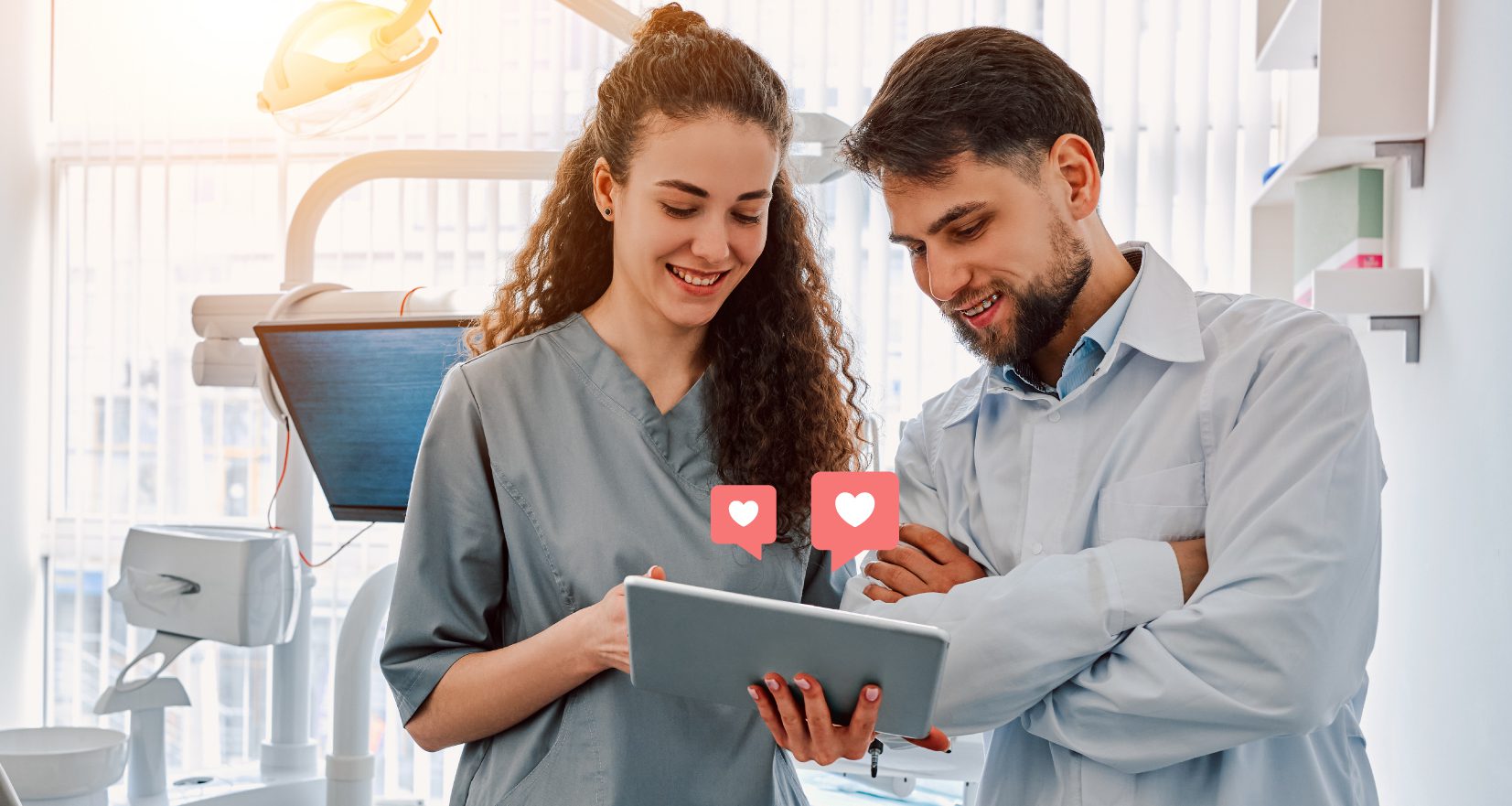 Unlocking Social Media Success for Dental Practices: Why Consistency is Key For a lot of dental practices, social media may be a (surprisingly) effective tool you've been neglecting in your…