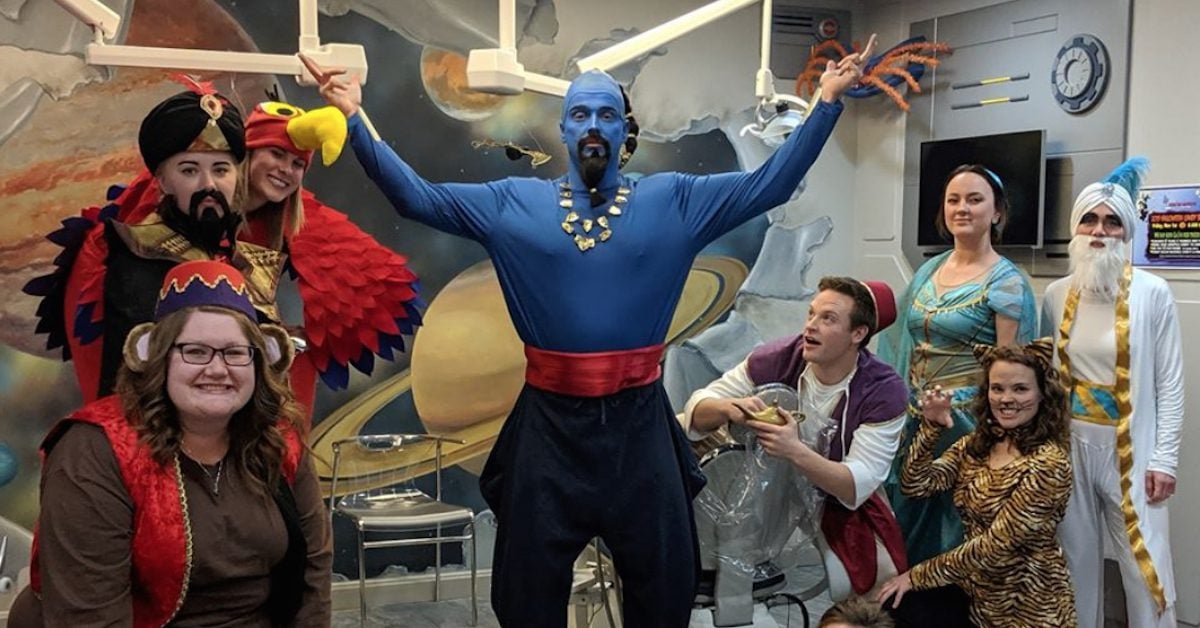 What makes Halloween so great for dental practices? It's the perfect opportunity to show off your creativity, have fun with your team, and create memories with your patients that they'll remember fondly for years! As part of our annual Halloween celebration, My Social Practice has held our Dental Team Costume Contest for the past several years, giving some truly remarkable dental teams a chance to shine.
Let's take a look back at some of this year's best entries, and discover why creating a great Halloween post isn't just all about fun, but actually helps attract and retain patients.
1. Legacy Pediatric Dentistry
Legacy Pediatric Dentistry proved that "you've never had a dental office like us" with their jaw-dropping Aladdin costumes! They racked up a lot of engagement, which is great for their visibility and making sure fans see more of their posts in the future.
2. Bright Inspired Dentistry
The social media all-stars at Bright Inspired Dentistry went all out for this pirate-themed team costume, complete with amazing scenery! In the comments of the post, patients and fans talked about how much they love seeing posts from the practice and sharing them with friends. They're turning patients who love them into their best advocates through social media!
3. MH Dentistry: Marc Heiden, DMD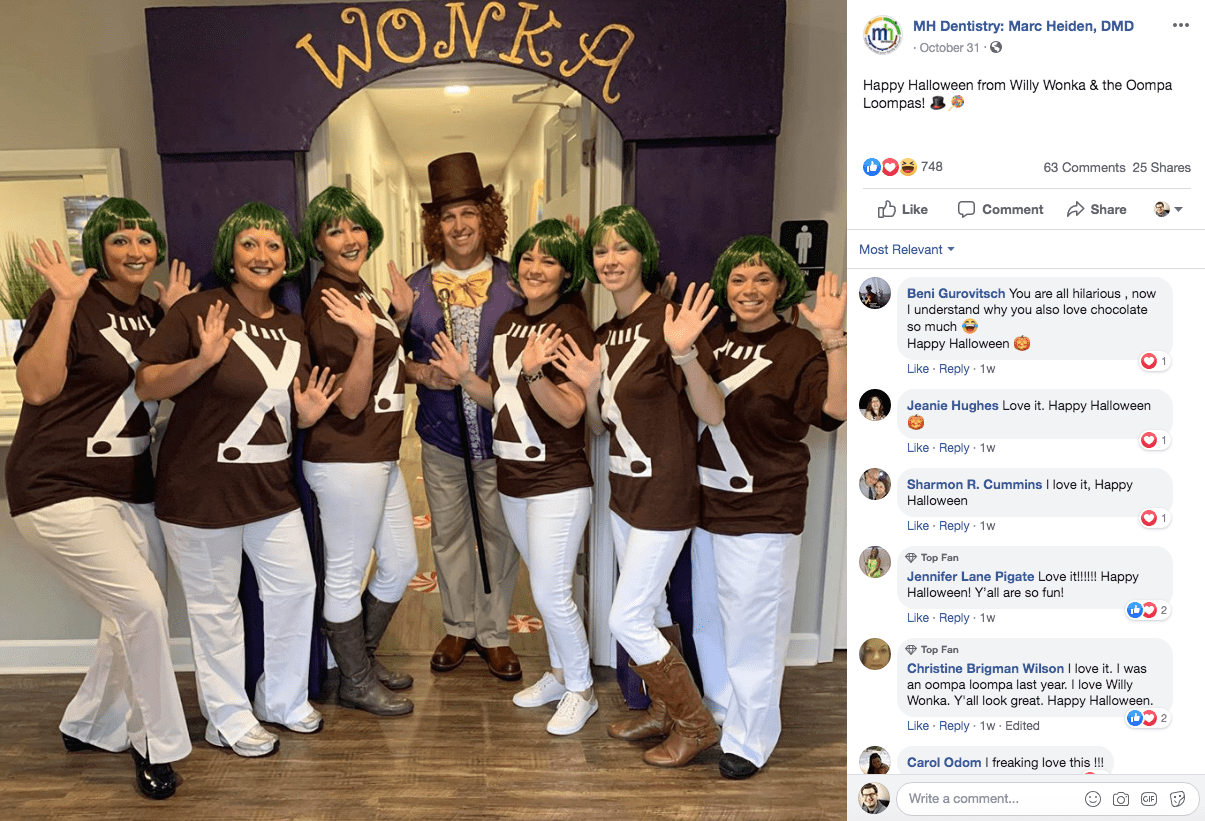 A dental team with candy-themed costumes? Sure, why not? The team at MH Dentistry: Marc Heiden, DMD earned a TON of engagement with this great team photo, especially comments and shares, which Facebook weighs most heavily when determining the reach of a post.
4. Thomasville Pediatric Dentistry

Patients know they've got a friend in Thomasville Pediatric Dentistry, who stunned with their Toy Story outfits! You can tell that they're a team that likes to have fun, and seeing how much they enjoy their jobs helps build trust with potential patients!
5. Dickson Dental

Finally, we'll highlight our Dental Team Costume Contest winner, Dickson Dental, who blew us away with these trophy costumes! Amazing things happen when you're not afraid to showcase your team culture on social media!
Great Social Media Builds Relationships
These practices put in the effort for excellent costumes and a lot of people saw their posts, but visibility for visibility's sake is not enough to build trust in your business. You need to give people a look into your practice culture and what patients can expect in your office.
And what do these photos say about these practices? They says that these are places where the team and patients are happy, comfortable and having fun. And in the minds of prospective patients who see it, those good feelings are transferred to their beliefs about the practice as a whole.
"If the team enjoys working together this much, then they must provide a great patient experience," they think.
Your practice's social media presence alone can be enough to convince ideal potential patients to call for an appointment, switch care providers, or recommend you to family and friends. Regularly post content that is personal, fun, and showcases what makes your practice and team special. This not only builds relationships, it also has a higher chance of being shared—just like these Halloween posts.
My Social Practice provides all the training, tools, and content to help you create content that will build relationships and grow your practice! Request a demo and one of our friendly social media experts will show you step-by-step how we make it incredibly simple. Let's find your practice's perfect social media solution!
______________________________________________________________________________
Find New Patients With Help From Dental Marketing Experts?
About the Author: Blake Hadley is an expert dental marketer and one of the founding members of My Social Practice. My Social Practice is a dental marketing company located in Salt Lake City, Utah. Blake is passionate about helping dental practices grow. If you'd like to book Blake or one of the other members of My Social Practice's speaking team, you can do that HERE. Interested in learning more about the benefits of SEO for dental practices or our dental websites service, you can learn more here.
______________________________________________________________________________