DENTAL REPUTATION MANAGEMENT CASE STUDY
"We've been averaging at least one Google review per day since working with My Social Practice!"

145
280%
INCREASE IN CALLS FROM GOOGLE MAPS
3X
INCREASE IN MAPS IMPRESSIONS
700+
Dr. Monica Ponce has been practicing dentistry for more than 27 years when she started a new scratch practice in the spring of 2020.
Knowing how valuable Google reviews were to attracting new patients, she decided to look for a solution that would help her quickly and effectively acquire 5-star Google reviews.
After setting up an automated texting system, some quick training, and putting together a team incentive, Dr. Ponce and her team took off without much more additional help.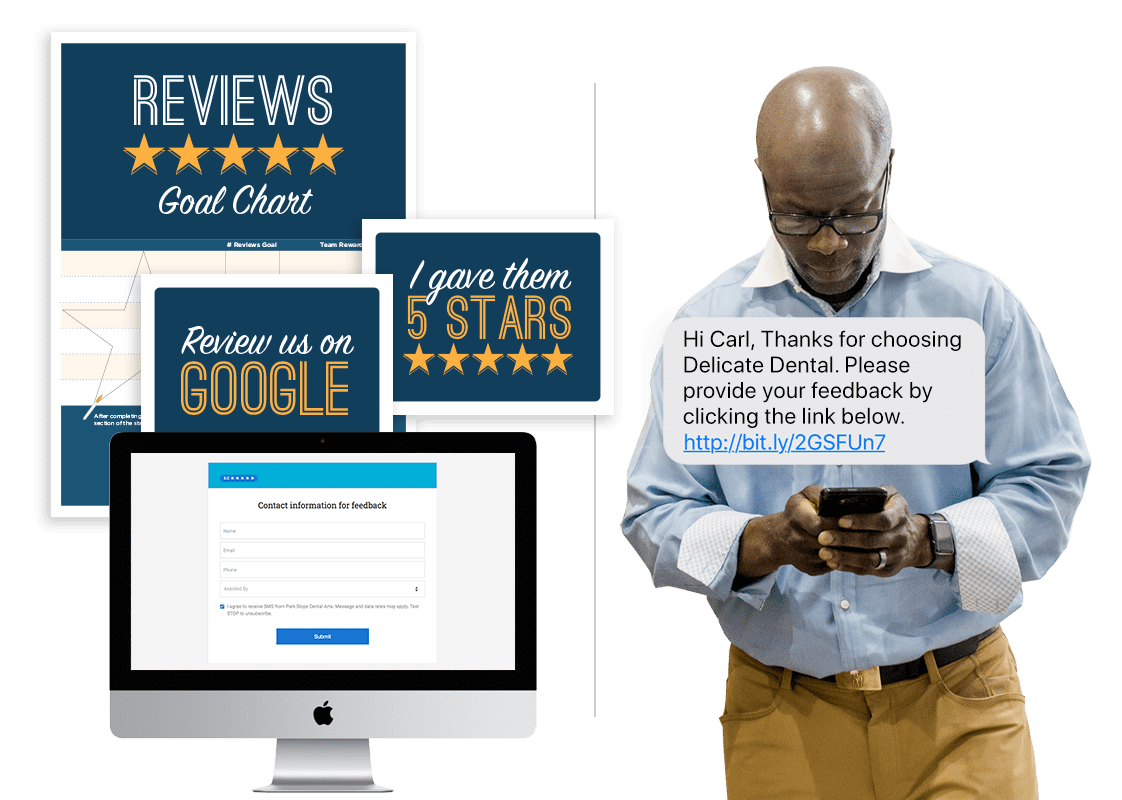 Delicate Dental used My Social Practice's reviews software to send patient review requests through text messages.
Dr. Monica Ponce set reviews goals, then incentivized her team members to talk with patients about reviews. My Social Practice's Goal Chart and Social Signs helped start the conversation!
Text message invites make it super simple for patients to click on the link and go directly to your Google My Business profile to leave a review!
See the same results as Delicate Dental and dramatically increase your Google reviews in just a few months!
Request a Demo Today!
We Focused On Their Google My Business Profile and Map Listing
Dr. Ponce understood that reputation management would include influencing, controlling, enhancing, or concealing her dental practice's online brand perception.
She knew that it would include monitoring reviews, comments, and conversations, responding to reputation threats and proactively seizing positive opportunities.
It was obvious that she should focus on her Google My Business (GMB) profile because it displays her Google reviews on the front page of search results.
And, understanding how new patients find her practice, she knew that the Google map was a primary consumer research tool.
Her conclusion to focus on acquiring Google reviews is supported by hundreds of online consumer studies showing that a businesses Google review profile plays a major role in a consumers decision making process.
About 90% of all potential patients review a dental practices reviews before scheduling and more than 50% of people searching for a local business use a map applications on their mobile phone.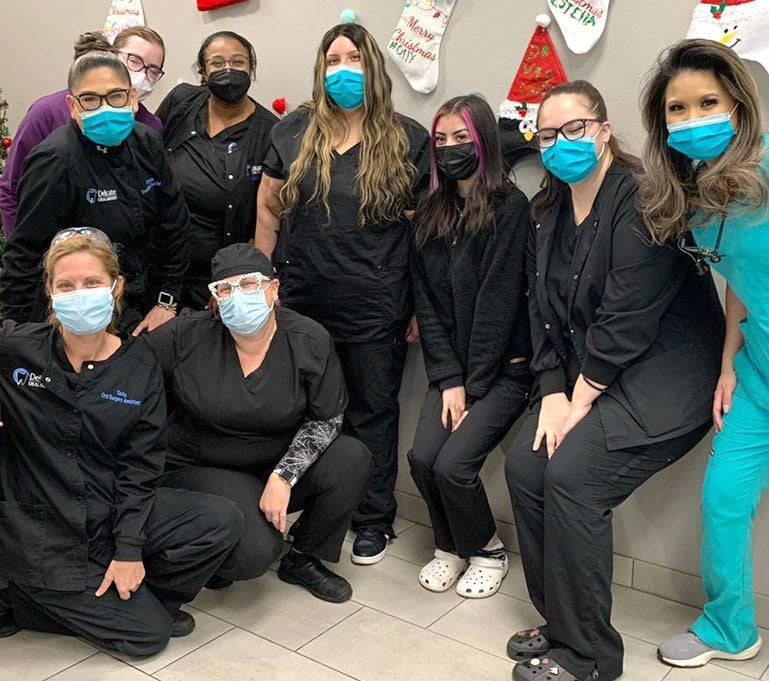 Putting A Consistent Reviews System In Place
The team at Delicate Dental Group understood that if they were going to do one thing to improve their online reputation, consistent 5-star Google reviews will have the weightiest positive impact.
Consistency is the key with acquiring Google reviews, and it's also the toughest part of the process. You can keep a dental team enthusiastic about asking patients for reviews for only so long. After time they get busy with other tasks, lose interest, and forget to stick with it.
Automation is the answer to this problem. Once you see your team beginning to lose interest, we recommend automating the process.
AUTOMATE YOUR REVIEWS TODAY
Some of Dr. Ponce's patients did not have a Google account but wanted to give the practice a review. In those situations we suggested Facebook, Healthgrades, and other medical directory sites. The graph below shows the total amount of new reviews month over month during the case study.
Not only did they receive more reviews, but more quality reviews! Many of the reviews included a photo of the patient with a team member!
Starting a scratch practice is a monumental effort in and of itself. One often overlooked task when starting a new practice is creating and updating online listings. A listing is an online mention of your practice name, address, phone, and website address. An example would be your practice's listing in Healthgrades.
Dr. Ponce was well aware that moving from a previous practice would create an online listings mess. She asked that we include an additional online reputation task, creating and updating all of her online listings and directories.

The graph above is a historical example of new citations and directory links that we built for Delicate Dental Group month over month for the past year. This is a process that takes quite a bit of time, especially when you start from scratch.
Why didn't Dr. Ponce create and fix her listings herself? Because, it's a serious pain in the butt and requires lots of time and attention, which she did not have with all of the other responsibilities in starting her practice.
The first step of updating her listings was to run a listings report. Our listings report scanned the web looking for mentions of Dr. Ponce and reported back which listings were currently online, which ones were correct, and which were incorrect. From there we were able to claim, change, and update them with her new practice information.
There are hundreds of listings online. Some get lots of eyeballs and others not as much, but all listings are beneficial because all of them create an inbound link. Inbound links are a big deal when trying to rank higher in search results.
Listings not only expand where your practice shows up online, it also creates inbound links which help you rank higher in search engines.
There are hundreds of dental and medical listings and directories online. Some get lots of eyeballs and others not as much, but all listings are beneficial because they create an inbound link. Inbound links are a big deal in SEO for dentists.
CHECK YOUR ONLINE LISTINGS
Starting From Scratch Required More Than Just Reviews
When a dentist starts a scratch practice, they'll need an SEO optimized website. Dr. Ponce took advantage of our free website offer and we built her a gorgeous new website in only a few weeks. We also kickstarted her dental SEO so that she could be found on day one of her practice launch.
The first goal of the campaign was to acquire 100 reviews, which was accomplished within a month. Currently they are the fifth most reviewed practice in the greater Las Vegas area.
GET MORE REVIEWS
CLAIM YOUR COMPLIMENTARY WEBSITE
The 2nd go-to review site online is Facebook. Receiving reviews and publishing content to Facebook and Instagram create a social proof statement through engaging images and videos.
GET A PRICING QUOTE NOW